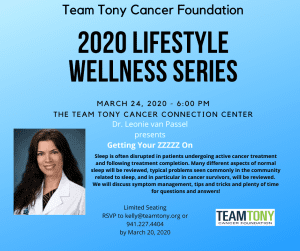 VIRTUAL EVENT – via Zoom
Join us for the next presentation in our 2020 Lifestyle Wellness Series: Getting Your Zzzzz On, presented by Dr. Leonie van Passel
Sleep is often disrupted in patients undergoing active cancer treatment and following treatment completion. Many different aspects of normal sleep will be reviewed, typical problems seen commonly in the community related to sleep and in particular in cancer survivors will also be reviewed.  We will discuss symptom management, tips and tricks and have plenty of time for questions and answers!
SPACE IS LIMITED!
Please RSVP to kelly@teamtony.org or 941-227-4404 by July 10, 2020.  Once you have RSVP'd, Zoom instructions will be sent prior to the event.
Dr. Leonie van Passel has been working as a neurologist at Intercoastal Medical Group since 2005. She is part of a multispecialty group that also employs five other neurologists. Originally from The Netherlands, she is married to Dr Julio Cantero, also a neurologist at the same practice, and they both share the same interests in Seizures Disorders and Sleep Disorders.  She trained at Georgetown University for her Neurology residency until 2003, after which she completed a two year fellowship in Epilepsy and Sleep disorders at Columbia University in New York City.  Following that, she and her husband relocated to Sarasota where they have practiced since.  She recently has made changes in her practice to give Sleep Medicine, in particular, more dedication.