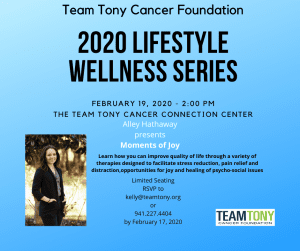 Join us for the second presentation in our 2020 Lifestyle Wellness Series: Moments of Joy, presented by Alley Hathaway of Tidewell.
Come learn how to improve your quality of life through a variety of therapies designed to facilitate stress reduction, pain relief and distraction, opportunities for joy and healing of psycho-social issues.
SEATING IS LIMITED!
Please RSVP to kelly@teamtony.org or 941-227-4404 by February 17th.
Alley Hathaway worked in education for four years in public and private institutions. She moved into corporate education and marketing with Tidewell Hospice in 2019. She has had both personal and professional experiences with hospice care and feels very passionately about ensuring that all people are taken care of in a compassionate and dignified way.