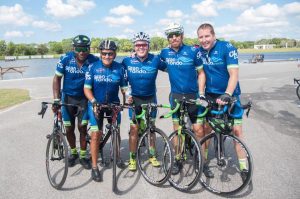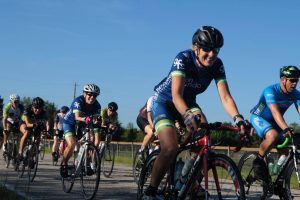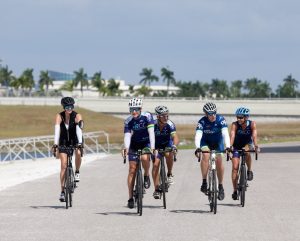 Bike-A-Thon 2020 FAQ
Will the Team Tony Cancer Foundation host an in-person ride? 
At this time, our 3rd Annual Gran Fondo Sarasota scheduled for October 4, 2020 at Nathan Benderson Park has been postponed.  We are exploring the possibility of hosting an in-person event at a later date in 2020 and will keep you posted as decisions are made.
The Team Tony Cancer Foundation is committed to keeping fighters, caregivers, teammates, staff, and our community safe.  We serve an immune compromised population and therefore all decisions made regarding gathering on October 4th will be made to comply with public health best practices.  Our highest priority will always be the health and safety of those we serve and our Team.  We are grateful for your cooperation and understanding as we work TOGETHER to help keep our community healthy.
What is Bike-A-Thon 2020 and how do I participate?
A bike-a-thon is a peer-to-peer fundraising event that works just like a walk-a-thon, however instead of walking, participants are biking for the Team Tony Cancer Foundation. Bikers collect pledges per completed mile or contributors may choose to donate a set donation amount to the Team Tony Cancer Foundation in support of a biker's efforts.  We will stay connected online as a community as we virtually cycle together. There is no registration fee, and no fundraising minimum.
         Define your own participation goals
Each participant will set a personal fundraising goal to fight cancer and select their own amount of meaningful miles to be completed between September 1 and September 30.
Ride your miles in one day or ride a little bit every day – it all counts! Zwift, Peloton, and other indoor trainer miles count in addition to any outdoor miles. Feel free to incorporate your favorite local segments of our traditional Gran Fondo route in your riding!
Track your miles using whatever method you choose (Strava, MapMyRide,  GPS, bike odometer, etc.). Post on social media using the hashtag #TeamTonyBikeathonFinisher and we'll add you to our finish line album!
         Virtual Event Details 
Virtual Kickoff–  On September 1 we meet at the Virtual Bike-A-Thon "starting line" through a Facebook Live Event on our Team Tony Cancer Foundation Facebook page.
Online Activities and Events– Stay tuned to our social media channels for exciting incentives, inspiring stories, pro tips, fun fundraising challenges and more!
Is there a minimum dollar amount to fundraise? 
Team Tony Cancer Foundation's mission has never been more important. A cancer diagnosis is one of the most challenging experiences in life, under normal circumstances. Coping with cancer during a global health crisis poses even more challenges, stress, and anxiety. Our Bike-A-Thon is a way for all of us to come together to raise funds and support fighters, caregivers and others facing cancer. Don't let cancer gain ground. Cancer hasn't stopped. Neither can we.
There is no fundraising minimum, however we are encouraging each participant to set a personal goal of raising at least $100 to fight cancer.
Are there fundraising incentives?
Yes! Even though there is no fundraising minimum requirement, we will still have fundraising incentives. Check back soon for a complete list!
$50 – Free 2020 Gran Fondo registration
$100 – Free 2020 Gran Fondo registration + a Team Tony Bike-a-Thon T-shirt
$250 – Free 2020 Gran Fondo registration + a Team Tony Bike-a-Thon T-shirt + a Team Tony Insulated Water Bottle
$500 – Free 2020 Gran Fondo registration + a Team Tony Bike-a-Thon T-shirt + a Team Tony Insulated Water Bottle + 2 tickets to our 2021 Jackets and Jeans Fundraiser
PLUS!  The top fundraiser will receive a $500 gift certificate to Bicycles International!
October 1 is the deadline for all fundraising money, including matching gifts, to qualify for awards and prizes.
How do I track my fundraising?  
Once you have registered for the Bike-a-Thon—or someone has registered for you—your peer-to-peer fundraiser portal will enable you to…
Post updates to Facebook or Twitter to share your activities.
Email updates to friends, family, and co-workers on your progress toward your fundraising goal.
Track your online and offline donation progress.
Have a donation that you need to mail in? 
If you are unable to upload donations through the peer-to-peer fundraising portal, follow the mailing instructions below.
Make checks payable to Team Tony Cancer Foundation. On the memo line, write Bike-A-Thon 2020. Mail to: Team Tony Cancer Foundation, 3562 S Osprey Ave, Suite C, Sarasota, FL 34239.
Please make sure to notify us at info@teamtony.org of any offline donations you are sending to ensure the donations appear on your fundraising page as quickly as possible.
Who can I contact with questions, comments, or ideas? 
Your Bike-a-thon volunteer committee and staff team are all here for you. Please feel free to reach out to us at info@teamtony.org with any questions or concerns. We are all in this fight together!