Team Tony Medical Assistance Program (MAP)
At Team Tony, our mission is to provide 1-to-1 support for cancer fighters and caregivers. We are committed to our mandate that no one should face cancer alone. The weeks and months following a cancer diagnosis are overwhelming. Often, new medically related financial demands add to the stress being experienced by cancer fighters. We are grateful to be able to offer financial assistance for those who participate in our 1-to-1 support program through the Team Tony Cancer Foundation. This grant is allocated for expenses that have been incurred due to an individual's cancer diagnosis, up to a maximum of $2,000 per fighter annually. It encompasses any medical cost related to treatment or recovery.
The Team Tony Cancer Foundation will provide resources and monetary support to help alleviate the financial burden of a cancer diagnosis. These items include, but are not limited to:
Transportation and travel expenses to/from treatment

Expenses associated with medications, testing, or direct patient care
The Medical Assistance Program specifically excludes support that may be available through alternative sources. These items include but are not limited to:
Utilities

Medical insurance premiums

Rent/Mortgage payments
This financial assistance is available to any fighter who has been matched with one of Team Tony's Teammates in our 1-to-1 support program. In order to receive funds, the fighter needs to have connected with their teammate, or with a Team Tony staff member. After having completed the application for funds, the form will be assessed and the fighter will be contacted within one week of receipt.
Once matched with your Teammate, the application for financial assistance can be obtained by sending an email to info@teamtony.org with the subject line 'Medical Assistance Program Application Request' or calling 941-227-4404.
Mowry Family Cold Cap Therapy Fund
For many undergoing chemotherapy, losing your hair is an inevitable part of the journey. Does it have to be this way? That's what Hollie Mowry, who was diagnosed with breast cancer in 2021, and her family asked. They discovered there's a way to minimize hair loss and hope to provide the technology to others undergoing her same journey.
"When you have cancer, it consumes your life. It's easy to lose your identity and just become a 'cancer patient' and I didn't want that," Hollie shared. "I just wanted to get through it so I could get back to my life. But I knew losing my hair would be a constant reminder that cancer was in control of my life." As a patient at Moffitt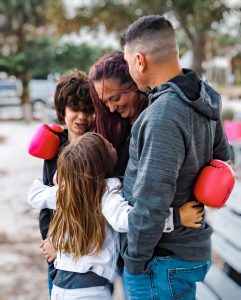 Cancer Center, Hollie was introduced to the DigniCap scalp cooling system which reduces the impact of chemotherapy drugs on hair follicles and helps limit the amount of hair loss experienced by the patient. "With cold capping, I could look in the mirror and see me looking back and that was priceless, not only for me, but for my kids. It made the whole thing less scary for them and let me just be 'Mom'."
The Mowry Family has held multiple fundraisers, donating the monies raised to the Team Tony Medical Assistance Program, specifically for breast cancer patients, wishing to benefit from cold cap therapy. What a beautiful way for their family to use their experience to help others who face a similar journey as Hollie.
If you are a breast cancer patient currently enrolled in our peer-to-peer support program and are interested in finding out if you qualify for this special funding,  please contact our office at 941-227-4404.